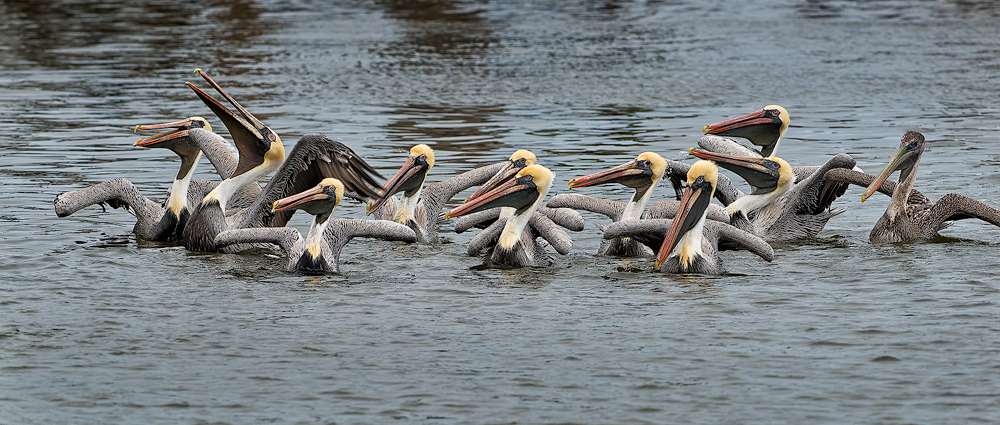 In late February I spent four days on the Outer Banks. Although it was a family vacation I did manage to find some time for photography. I woke early two mornings for sunrise shoots at a local pier. On two evenings I found time for night photography at nearby lighthouses. However, being primarily a wildlife photographer, I most enjoyed the three hours I spent one afternoon with brown pelicans on Roanoke Island.
Let me first put in a plug for an ebook by photographer Jared Lloyd, The Photographer's Guide to the Outer Banks. If not for the ebook, I would not have known about this location for pelicans. Jared Lloyd is a talented photographer who grew up on the Outer Banks and has photographed there for many years. He knows the photographic opportunities there, both wildlife and scenic. His guide tells you where the best locations are, as well as the best times to be there. I highly recommend the ebook to anyone planning a photography trip to the Outer Banks. When you factor in the costs of travel and lodging, plus time scouting the area on your own, the price of the ebook is a bargain. You can purchase it at http://www.jaredlloydphoto.com.
I've always loved watching pelicans fly along the ocean shoreline, often gliding effortlessly just above the surface of the water, rising and falling as they appear to roll laterally over the incoming swells and waves. When you first see a brown pelican on land however, it can appear to be awkward-looking, even somewhat ugly—with its large head, stocky body and short stumpy legs. But once it takes flight, the power and grace of this magnificent bird with its seven-foot wingspan is clearly evident.
The pelicans of Roanoke Island are on the sound and not on the ocean shore, so images of them flying just above the swells and waves are not possible. Yet they do gather reliably here in significant numbers and you'll have plenty of opportunities for interesting images. They hang around the docks waiting for the fishing vessels to return with their day's catch. Once the catch is unloaded, the leftovers are washed or tossed overboard to the waiting pelicans.
The photo opportunities are varied and numerous: from the obligatory "pelican on a piling," to soaring flights, take-offs and landings, and even the somewhat comical antics performed by the pelicans as they compete for the fish scraps.
It was very easy to fill up a memory card quickly. A few of my favorites are shown here.
Next post I'll share some of the scenic images I took on this trip.